Induction Heating
Division
We manufacture OEM parts; supply and repair coils, power cables, lamination packs, insulation, furnace blocks and other equipment and re-engineer existing installations.
Deritend provides a market-leading range of induction repair and induction service solutions for customers representing the forging, melting, stirring, coating, chemical, extrusion, food & beverage, and heat treatment markets. We can engineer, redesign, improve, test and repair parts and equipment and provide value-adding on-site consultancy where required.
Our induction services include:
Manufacturing a vast selection of parts for OEM customers.
Supplying, repairing and refurbishing induction coils and equipment, power cables, lamination packs, insulation boards and materials, precast furnace blocks, capacitors, thermo switches, demineralising crystals, busbars, vessel heaters and water cooled chokes and transformers to original manufacturer standards.
Manufacturing equipment such as water cooled coated rails, inconel rails, casting linings and supply of carbon free hoses, silicon glass coated sleeve and rope, SCRs, end boards and insulation materials.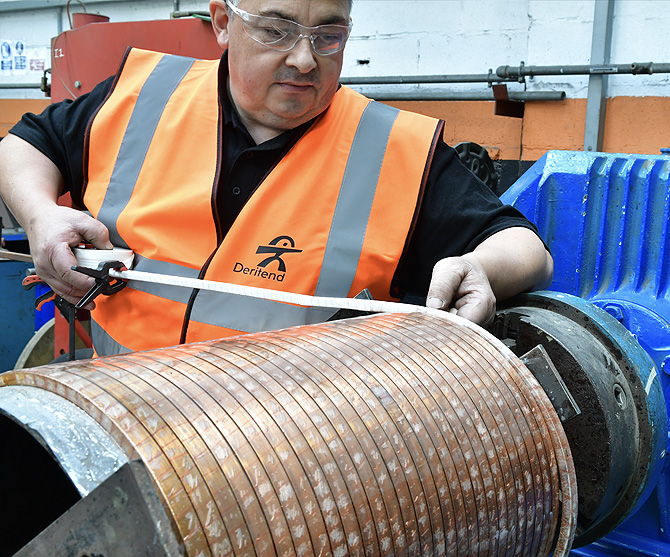 Undertaking re-hosing, chemical flushing and system cleaning of furnace panels and coils.
Our test equipment is calibrated to national standards, and we can offer process testing, final testing, insulation testing (IR) and non destructive Rissati/Baker electrical coil testing.
Utilising our bespoke vacuum impregnation varnishing process.
We have established relationships with specialist manufacturers and suppliers including Ambrill, Eldec, IMS, Elmlin, ESSPEE and SIR to provide a convenient single source solution.
Deritend has also invested in cutting edge capabilities that encompass a 20 ton overhead crane, winding capacity of up to 2m diameter x 2.25m in length, a 2m³ curing oven, a 50 ton vertical press, varnish dip tank, acid flush pump, universal milling, asbestos rated vacuum and controlled disposal.
Call us on: 0121 525 6599
Click on the images below to view the latest case studies from our various divisions.