New contracts and new jobs provide a welcome relocation
New contracts and new jobs provide a welcome relocation present for Deritend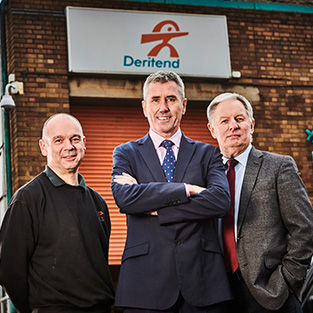 25 new jobs could be created at a Black Country engineering solutions provider after it finalised the creation of its new regional centre of excellence in West Bromwich.
Deritend Group, which celebrated 121 years in business in 2019, is moving a lot of its operations for the Midlands from Wolverhampton into the modern facility in Brandon Way, giving it additional space to create a dedicated fabrication shop.
More than £500,000 is being spent on the expansion and comes as the firm is looking to bounce from Covid-19, with a number of new contract wins in the food, water and waste sectors.
The experts in the repair and replacement of electric motors, pumps, gearboxes, electronic controls and induction equipment is also at the final stage of a number of long-term tenders which, if successful, will require a significant recruitment drive.
"We keep UK industry and a lot of essential utilities going, so we tend to be a good barometer for economic recovery, being the first to feel a recession and the first to emerge from it," explained Richard Hale, CEO of Deritend.
"During the pandemic, we had to furlough about 50 staff as projects just dropped off a cliff. However, over the last three months we have seen output increase by 30% and we are now operating at around 85%."
He continued: "The really exciting news is that we are on the verge of potentially winning some major contracts and these will provide long-term work and possibly 25 new jobs, including workshop fitters, site fitters, welders and fabricators."
Deritend, which was acquired by Richard and his management team in 2001, plays a critical role in ensuring we have clean water in our homes, production lines meet just-in-time requirements and society has a regular supply of food.
A fully equipped fabrication operation in Middlesbrough and a skilled team of engineers located strategically across the UK continue to support customers ranging from Severn Trent/Thames Water and JCB to British Steel and Mondelez International, who own Cadbury.
The recent relocation to West Bromwich takes its annual investment to over £1m, with new equipment installed and an upskilling programme implemented for the majority of its 120-strong workforce.
Dave Booth, Regional Director, continued: "West Bromwich will be our regional centre of excellence for the Midlands, giving us additional space, a purpose-built layout and the opportunity to create our own fabrication shop – just in time really, as we are seeing an increase in demand for this service.
"There is a still a lot of uncertainty around, but the service we offer means we have to be in a position to take on new contracts quickly and also meet emergency repairs if a manufacturing line goes down or there is a fault at a water treatment plant."
He concluded: "The recent investment underlines our commitment to our customers and our desire to be at the forefront of new projects when they arise."
For further information, please visit www.deritend.co.uk or follow @deritend on twitter
Date:

29th September 2020

Category: