Fixed Pump Efficiency for Monitoring Success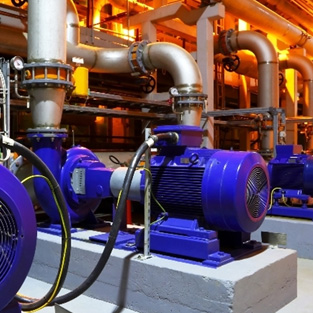 The Deritend Group are delighted to announce that they have successfully secured a further roll out of fixed pump efficiency monitoring with Severn Trent Water, provider of water and sewerage services to over seven million customers in central England and parts of Wales.
The roll-out will see up to 81 pumps permanently monitored across 17 systems on 7 water treatment plants &/or pumping stations.
The contract for installation of thermodynamic test equipment forms part of Severn Trent Waters drive to provide optimisation of pump systems across its geographical range. Deritend, Severn Trent Water's framework supplier for energy efficiency services & condition based monitoring, have successfully trialled thermodynamic & vibration analysis test equipment across a range of strategically important sites across Severn Trent, leading to the award of further projects.
The basis of the technology is measurement of the differential fluid temperature across each pump to an accuracy of better than 0.0005of a degree, with long term stability. This information, together with the differential pressure across the pump, enables the pump efficiency to be calculated, from the change in enthalpy. The power supplied to the pump is also known, and the combination of pump efficiency, total head, and pump input power provides accurate flow rates.
Deritend will install and use this technology, targeting specific pumping assets to meet return on investment targets and key performance indicators.
This data will also help Deritend make future recommendations to Severn Trent Water, presenting the water utility with a range of options on how to best optimise the performance of their assets & reduce their operating costs.
The wider analysis process of this project can also identify further possible improvements that can be undertaken by the water utility, including head management, M&E upgrades and further network optimisation, which could lead to further substantial additional savings.
Date:

24th September 2019

Category: