65 Not Out for Longest Serving Employee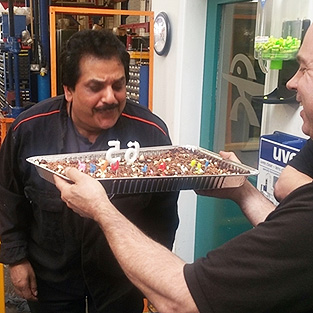 We'd like to say a very, very happy birthday to Wolverhampton's very own Pete Kumar, who turns 65 on Saturday!
But there's no retirement party just yet for our Pete, after 49 years with the business, we're pleased to say we'll be benefiting from his extensive knowledge of motors, and years of experience for some time.
However, we just simply couldn't go without marking this special day for Pete, with cake and a present, with colleagues in attendance to salute Wolverhampton's wisest winder!
Many happy returns Pete, thank you very, very much for your countless years of service, and we look forward to having you around for while longer!
Date:

24th September 2019

Category: